We Need A Little Speech Meet
by Frank Riccobono
A short forensics-themed Christmas carol to the tune of the Johnny Mathis version of "We Need a Little Christmas" in honor of the annual Holly Speech Festival in Natick, MA.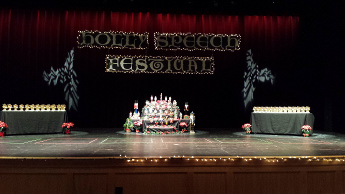 We're at the Holly
Look at that gleaming tow'r of nutcracker trophies
Stand in your boxes
And watch a friendly Spirit tell us all who has won.
For we need a little speech meet, right this very minute
Dec'ers in the hallways, Duos here to win it
Yes we need a little speech meet right this very minute
Finish up your registration. Who will speak in affirmation?
Throw up the postings
Kick off the longest round of Prose I've ever seen
Set up the tab room
It's time we've got those ballots printed and handed out.
For I've memorized my intro, edited my OO
Read the book for Disco, prepped my case for POFO
And I need an Extemp question on a topic I know
Need a little speech meet now.
For we need a little Multiple reading from a binder
Rulebooks for the judges, just as a reminder
And we need a kid's Persuasive to urge us to be kinder
We need a little speech meet now!